Kirkwood Property Management
Let Us Manage Your Kirkwood Rental Property
In the end, making the most of a rental property-investment means maximizing cash flow today, while protecting the property itself so that you may benefit from long-term appreciation.
Sounds easy! But accomplishing these goals requires a lot of time, effort, experience and knowledge. Let us save you the time, energy and frustration that comes with gaining that experience. Whether you are an investor with a rental portfolio or you just need to rent your home while taking a 3-year work assignment in Singapore, we can step in and help you make the day-to-day decisions to position your investment and achieve your goals.
As a full-service Atlanta property management company, our team is responsible for taking care of all aspects of managing your rental(s). Our services are customized to meet your needs. Whether you want us to "do it all" or simply find you a renter, we are here to help you!
Ready To Get Started?
Get your free rental analysis, or if you want to consult with us over the phone, complete the form at the top right and we will be in touch!
Why Choose Your Intown Home
Property Management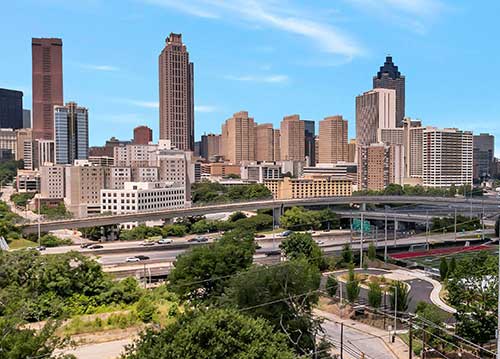 Our Intown Expertise Is
Unparalleled
Atlanta's in-town real estate commands different pricing and appeals to a different demographic than properties in other parts of the Metro area. We provide expert, professional management for property owners who want a hands-free real estate investment, and we guarantee you a 5-Star experience. Our systems are designed for property owners who have investment homes in Atlanta's intown neighborhoods whether they live in intown themselves, outside the perimeter (OTP) or on the other side of the globe.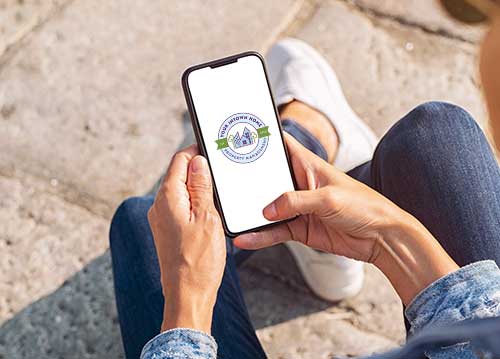 Responsiveness and Great Communications Are Core to Our 5-Star Service
We answer the phone and respond to emails! The most common complaint we hear from landlords looking to make a change in property management companies is a lack of communication. We believe that communication is the key to a successful and profitable owner-manager relationship.
Responsiveness to applicants, owners and tenants is one of the hallmarks of Your Intown Home. This simple but significant difference between us and the competition continues to set us apart. In addition to timely communication on all details regarding your property, you will have 24/7 online access to your account portal and a live-voice answer on the phone lines of Your Intown Home.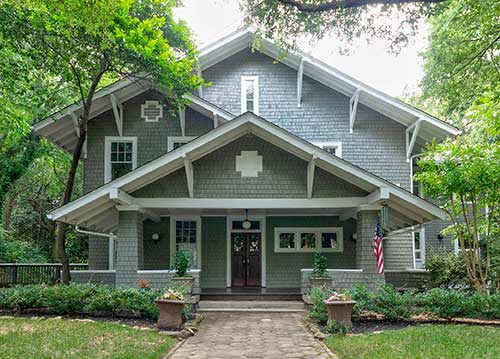 Turn Key Services Are Designed To Make Your Life Easier
Hand us the keys and relax! We offer a comprehensive solution for our property-owner clients so you don't have to worry about a thing. These services include:
Marketing the property to prospective tenants
Screening and placing well-qualified tenants in your house
Ongoing property and tenant relationship management
Property maintenance and financial reporting
We also provide brokerage services for clients and customers looking to buy or sell properties.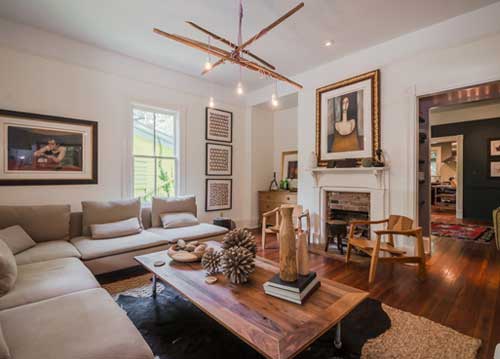 Integrity Creates The Basis For A Trusted Relationship
At Your Intown Home, our guiding principle is to make judgement calls and provide advice and guidance that follow the course of action we would choose if we owned the property ourselves. There are times when such decisions are complex and not readily obvious to those unfamiliar with the nuances. From time to time, it may make more sense to spend a little extra money now to secure a tenant for an extended tenancy or to end a tenancy at the end of a lease term in the high season rather than allow it to go month-to-month into the slower rental months. We'll give you our perspective and rationale and let you make the final decision.
Both property-owner clients and tenants appreciate Your Intown Home's integrity. Our "no hidden fees" policy ensures a relationship of trust between us and our owner-clients. Tenants appreciate our transparent and clearly expressed leasing guidelines. As with our property owner-clients, our goal is to provide "5-star" service to our tenants, and, in so doing, give them every reason we can to renew their lease on their anniversary date.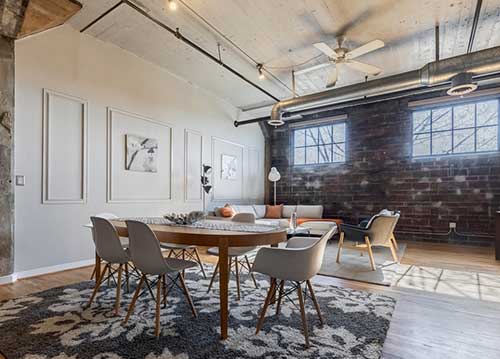 Protecting Your Investment And Maximizing Your Results Are Key Priorities
We understand that your real estate holdings are a significant part of your financial portfolio. Our goal is to protect that investment so that it grows in value over time. We provide guidance on necessary repairs to protect the structure and integrity of your home as well as suggestions for upgrades or enhancements to ensure your property's continuing competitive advantage in the rental marketplace. We work together to maximize your rental property's contribution to your financial position.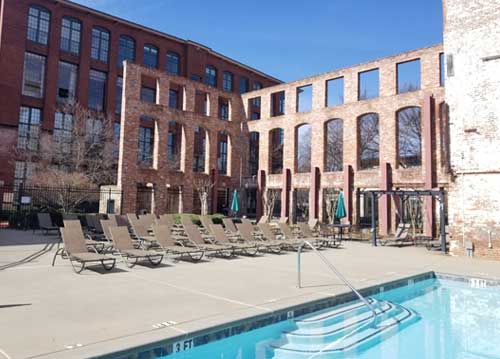 Experienced And Professional Staff Are Here To Help
We are members of the National Association of Residential Property Managers (NARPM) a very active trade organization through which we attend conferences and take continuing education courses in property management. As subject matter experts in areas such as Fair Housing, Georgia Landlord-Tenant law, ADA regulations, HUD Service and Support Animal requirements, Fair Credit Reporting Act, we stay abreast of legislation that could impact the residential rental industry.
Cameron, our Associate Broker, is a member of the Georgia Association of Realtors, the National Association of Realtors and has been awarded the "Top Producer" designation from the Atlanta Realtors Association for every year since 2016.
How Much Rent Can You Get For Your Rental Home?
We'd Be Happy To Give You A Free Estimate!
Because we focus on the small footprint of Atlanta's popular, intown neighborhoods, we are very well-versed in current market rates for each area. Some companies offer computer generated reports, but we've found that these reports tend to be no more accurate than you might find on Zillow or other AVMs (Automated Value Models).
Our custom market analysis is the first step in honing in on topline revenue expectations for your rental home. As a next step we'll want to see your home in person. Rental pricing depends on a broad array of considerations including location, finish levels, size, amenities and time of year. Based on all these factors, and your personal goals, we'll help you determine the best pricing strategy for your property. Our custom market analysis will provide:
Optimized Rental Value For Your Property
When Applicable, Suggestions To Enhance Your Home's Market Value
Relevant Insights Into Current Market Conditions
Cash Flow Estimates From Monthly Rental Value
Should I Sell Or Rent My Home?
Tips To Increase Rental Income
Explore What We Do
As Your Intown Kirkwood Property Manager

Marketing The Home
We will advise you on how to make your home look its best. Once ready, we will present your home on today's most relevant tenant-focused internet sites. 99% of renters today, first see a listing online.

Tenant Aquisition & Screenings
We conduct extensive screening on all tenants focusing on credit, income and prior residential history. Our rigorous screening has resulted in our almost zero rent-payment default rate.
Inspections & Maintenance
We conduct a detailed inspection at move-in to record the condition of your home just before the tenants take possession. When the tenants move out, we repeat the process comparing our findings to the move-in inspection report. We make sure you are not left making repairs for items damaged by your tenants.

Lease Renewal
Our tenants pay rent online by the 1st of the month. We deposit your money directly in your bank account and send you a PDF report detailing all activity at your home each month.

Maintenance
At the time of lease renewal, we inspect the property to ensure that the home is being well cared for and that we indeed recommend extending the lease for the current tenants.

Financial Reporting
With our detailed financial reporting tools and online owner portal, it's a snap to keep tabs on your investment by pulling your monthly statements or annual reports to prepare your taxes each year.
Neighborhoods We Serve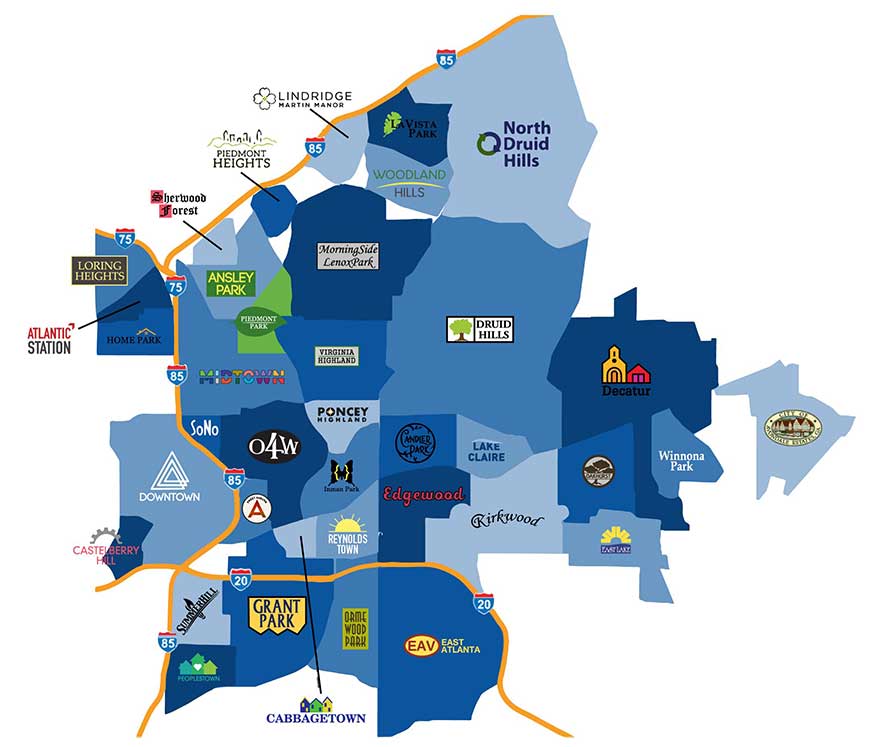 Amberwood
Ardmore Park
Ansley Park
Avondale Estates
Boulevard Heights
Briarcliff Heights
Buckhead
Cabbagetown
Candler Park
Capitol View
Castleberry Hill
Decatur
Downtown
Druid Hills
East Lake
Edgewood
Garden Hills
Glenwood Park
Inman Park
Lake Claire
Leafmore
Lindmore Woods
Little Five Points
Morningside/Lenox Park
Peachtree Hills
Peoplestown
Poncey Highlands
Oakhurst
Ormewood Park
Reynoldstown
Riverside
Summerhill
Sylvan Hills
Toco Hills
Virginia Highlands
West End
West Midtown
Woodland Hills
Discover Kirkwood
Local residents like to call Downtown Kirkwood "the small town in the big city." With its charming mix of main street establishments - from its post office, fire station, police precinct, and public library to its restaurants and bars, coffee shops and gift shops, fitness and wellness studios, creative and professional spaces - it indeed embodies that small town vibe. This revitalized commercial district anchors a leafy, walkable historic neighborhood of Victorian and Craftsman homes along with newly built homes in keeping with the overarching traditional style of the surrounding community.
The buildings of the former Kirkwood School on Kirkwood Road just north of Bessie Branham Park now comprise the Kirkwood Lofts apartments as a result of a $1 million renovation in 1997 adding yet another attractive historic residential option.
Kirkwood hosts a number of annual community events including the Kirkwood Spring Fling Festival and Tour of Homes, the Kirkwood Family Find Easter Egg hunt, the Kirkwood Wine Stroll, Kirkwood Home for the Holidays with tree lighting, live music, holiday market, and Santa, and, with East Lake, B*ATL commemorating the area's role in the Civil War.
MORE +