Discover the Atlanta Neighborhoods We Serve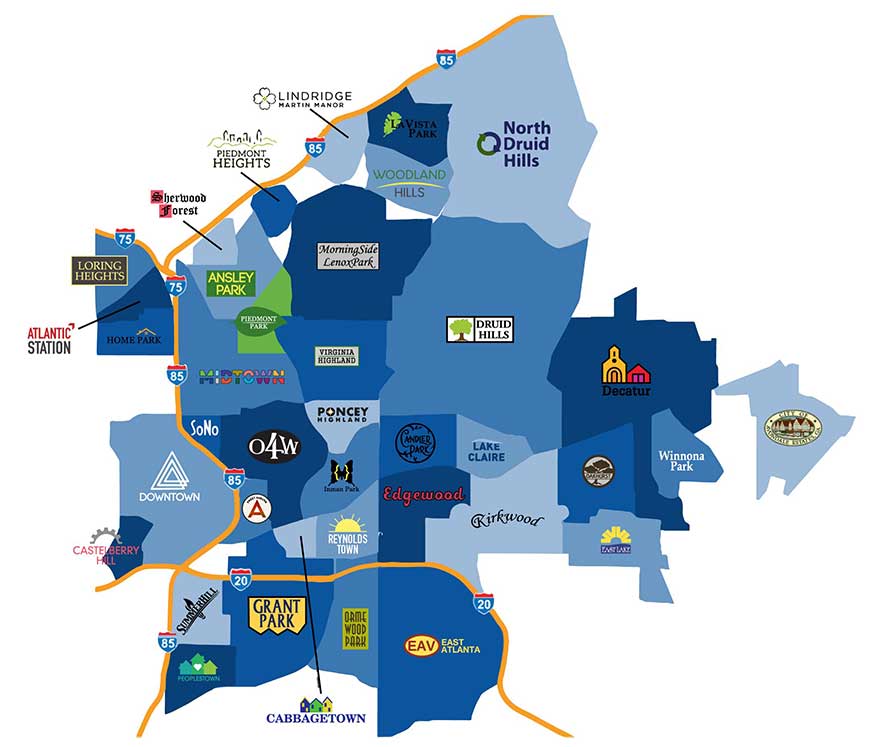 Amberwood
Ardmore Park
Ansley Park
Avondale Estates
Boulevard Heights
Briarcliff Heights
Buckhead
Cabbagetown
Candler Park
Capitol View
Castleberry Hill
Decatur
Downtown
Druid Hills
East Lake
Edgewood
Garden Hills
Glenwood Park
Inman Park
Lake Claire
Leafmore
Lindmore Woods
Little Five Points
Morningside/Lenox Park
Peachtree Hills
Peoplestown
Poncey Highlands
Oakhurst
Ormewood Park
Reynoldstown
Riverside
Summerhill
Sylvan Hills
Toco Hills
Virginia Highlands
West End
West Midtown
Woodland Hills
Cabbagetown - Reynoldstown

Cabbagetown is one of Atlanta's most charming and unique historic neighborhoods. From the eclectic restaurants and gathering spots of Carroll St. to its parks and playgrounds, from the array of stunning murals along Wiley Street and the famous street art of the Krog Tunnel to the rapidly developing Memorial Corridor, Cabbagetown packs a big experience with a certain bohemian flair into a relatively small package.
With its narrow streets of party-colored cottages and shotgun houses, this mill town community, home to artists and professionals alike, has its roots in Appalachia. Cabbagetown was built to house folks who came south from the Georgia mountains to work in the Fulton Cotton Mill, now the nation's largest residential loft community whose smokestacks are an enduring and iconic symbol of the neighborhood today.
November brings Chomp and Stomp, Cabbagetown's annual bluegrass festival and chili contest to Cabbagetown Park along with a 5K road race that typically sees over 16,000 participants.
Neighboring Cabbagetown to the east, Reynoldstown is a thriving BeltLine neighborhood that reflects the diversity of its community from its mix of historic, traditional, and modern homes to its people – first-time home buyers, families, singles, artists, professionals, and students. In recent years this neighborhood has seen an influx of families looking to take advantage of the intown living/BeltLine lifestyle it offers.
The shops, restaurants, retail, and entertainment venues of Atlanta Dairies, Madison Yards, and the rapidly evolving Memorial corridor form Reynoldstown's southern boundary, and, along with the Edgewood Retail District on its eastern edge, provide a wide variety of conveniences all within easy walking and biking distance. Its proximity to Cabbagetown, Old Fourth Ward, Inman Park, Glenwood Park, and Edgewood means that the parks, shops, and restaurants of those neighborhoods are also walkable/bikeable.
The annual Wheelbarrow Festival celebrates its historic tie to the freed slaves who originally settled the area. The Beltline's Stumpery Garden is a unique feature along the path that bisects the neighborhood. Reynoldstown is home to the headquarters of both Trees Atlanta and Habitat for Humanity.
East Atlanta - Ormewood Park - Grant Park

With its urban pioneering vibe, East Atlanta's singular character is on full display whether in the neighborhood's commercial district, East Atlanta Village, or in its unique array of community festivals and events. Neighbors regularly gather evenings in April to December at the quirky, hipster EAV Farmers Market which features local artisanal wares.
East Atlanta is host to a number of other popular events from the East Atlanta Craft Beer Festival, which showcases over 230 beers from all regions of the planet, to the East Atlanta Twilight Criterium's day of bicycle races and events in August, and the East Atlanta Strut in September with its parade, 5K fun-run, food, art, and lots of live music. Music is core to the neighborhood's spirit. Some argue that EAV's mainstay establishment, The EARL, is the be-all and end-all of underground music in the American South.
East Atlanta's lively art scene is reflected in its murals and street art. While some are easily visible from the street, an equal number are hidden in back parking lots, alleyways and behind buildings. East Atlanta also lays claim to Brownwood Park recreation center, game courts, kids' area, and plenty of natural shade, all lovingly restored and maintained by concerned citizens.
Along with Inman Park, Grant Park is Atlanta's largest remaining area of Victorian architecture. From the grand mansions that face the park to the quaint streets full of Queen Anne houses, Victorian cottages and Craftsman bungalows, Grant park is a neighborhood full of architectural gems surrounding an Olmstead-designed park, which is also home to Zoo Atlanta.
Neighborhood restaurants and gathering spots are nestled in amongst the shady streets while the rapidly growing Memorial Corridor offers more retail options. Oakland Cemetery on its northern border is full of statuary of historical significance and sponsors special events including art exhibitions, music festivals, and the wildly popular Capturing the Spirit of Halloween Tours. The Grant Park Farmers Market happens Sundays during Summer months at The Beacon. Nestled between historic Grant Park and East Atlanta Village is Ormewood Park. Ormewood is a quiet neighborhood shaded by mature oaks and lush evergreens and populated by Craftsman-style homes, 1920's brick bungalows and newer larger offerings in contemporary styles such as the modern farmhouse. Ormewood Park is bisected by the BeltLine with its portion currently an interim trail that connects the paved portions of the Eastside and Westside Trails. It is a neighborly community made up of young professionals families with school-age children.
In 2016, the Ormewood Park Civic association created the first Ormewood Park Makers Festival, which celebrates local craftsmen, showcases live music, and conducts maker workshops and includes an historic trolley tour of the neighborhood. Atlanta Neighborhood Charter School, which opened in 2005 boasts the highest Criterion-Referenced Competency Test (CRCT) scores in Atlanta and a 9 to 1 student to teacher ratio.
Kirkwood - Edgewood

Local residents like to call Downtown Kirkwood "the small town in the big city." With its charming mix of main street establishments - from its post office, fire station, police precinct, and public library to its restaurants and bars, coffee shops and gift shops, fitness and wellness studios, creative and professional spaces - it indeed embodies that small town vibe. This revitalized commercial district anchors a leafy, walkable historic neighborhood of grand Victorian and spacious Craftsman homes along with newly built homes in keeping with the overarching traditional style of the surrounding community.
The buildings of the former Kirkwood School on Kirkwood Road just north of Bessie Branham Park now comprise the Kirkwood Lofts apartments as a result of a $1 million renovation in 1997 adding yet another attractive historic residential option.
Kirkwood hosts a number of annual community events including the Kirkwood Spring Fling Festival and Tour of Homes, the Kirkwood Family Find Easter Egg hunt, the Kirkwood Wine Stroll, Kirkwood Home for the Holidays with tree lighting, live music, holiday market, and Santa, and, with East Lake, B*ATL commemorating the area's role in the Civil War.
Edgewood is Kirkwood's cozier neighbor. Originally geared towards blue collar workers, the neighborhood's prevailing historic architecture is homey craftsman bungalows as opposed to the grander Victorians of Kirkwood. Today new larger houses are being built in the neighborhood ranging from spacious edgy moderns to gracious modern farmhouses. Edgewood's may best be known for its retail anchor, the Edgewood Retail District, which houses a number of big box stores, smaller shops, restaurants, and grocery and provides a convenient one-stop shop experience. An advantage of Edgewood's location is its proximity to the wild diversity of Little Five Points, the array of fine dining establishments in Inman Park, and the endless energy of Krog St. Market.
Inman Park - Old Fourth Ward

Inman Park, one of intown Atlanta's most beautiful and historic neighborhoods, is now at the epicenter of gracious modern urban living.
The neighborhood's dynamic mix of families, empty nesters, and singles enjoy a walkable/bikeable BeltLine lifestyle. The vibrant restaurant scene, shopping, neighborhood events, parklands, playgrounds, and local swimming pool are all nestled within a garden district amid magnificent examples of architectural preservation: from grand Victorian "Painted Ladies" and Romanesque "castles" to stately four-squares and charming Craftsman bungalows. The Inman Park Tree Watch in partnership with Trees Atlanta is responsible for the preservation and curation of many of the trees in the neighborhood.
Inman Park is home to Krog St. Market and some of Atlanta's most buzzworthy intown restaurants. As a popular area for Atlanta's film industry, it is not unusual to see film crews setting up shop along one of Inman Park's graceful streets. The annual Inman Park Festival held each April is Georgia's largest all-volunteer festival while the Tour of Homes, highly attended Inman Park Parade, and Butterfly Ball all showcase the eclectic spirit of this community, which prides itself on inclusivity and embraces both homeowners and renters. Schools include Mary Lin, Howard Middle School, and Grady High School.
Few neighborhoods have seen the astounding revitalization and innovation that Old Fourth Ward has: the transformation of the former Sears building into Ponce City Market, the development of Old Fourth Ward Park, the bustling Ponce de Leon corridor, the Beltline with its attendant restaurants, retail and office space, the hip Edgewood Ave. entertainment district, and a booming residential scene that includes apartment buildings and both modern and traditional single family homes. O4W with its great diversity, walkability and integration of residential, retail, and business has something for everyone.
O4W is home to landmarks such as Martin Luther King Jr.'s home. This dog-friendly neighborhood boasts Freedom Barkway dog park, which takes its punny name from Freedom Parkway and trail. A great neighborhood for viewing street art, a skate park with world-class skateboard amenities, a playground with splash pad, and a multi-use athletic field are just some of the outstanding features O4W has to offer.
September brings Art on the Atlanta BeltLine, an outdoor exhibition of artist's work from Atlanta and beyond, and its premier event, The Lantern Parade. This glowing procession of light, music and color was created by Chantelle Rytter and the Krewe of the Grateful Gluttons and brings together folks from all over the Atlanta area for a wholly unique shared artistic experience.
Midtown - Ansley Park

Midtown is the heart of sophisticated urban living in Atlanta. From the sleek high-rises of Peachtree to the gracious historic homes of Myrtle St., the thriving diversity of this highly walkable environment offers city living at its best.
Overlooking Piedmont Park and the Atlanta Botanical Garden, Midtown is the city's hub for art and culture as well as commerce. The High Museum, Woodruff Arts Center, the Atlanta Symphony Orchestra, the Atlanta Ballet, the Fox Theater, the Center for Puppetry Arts, the Museum of Design Atlanta, and the Atlanta campus of Savannah College of Art and Design all call Midtown home.
The BeltLine's Eastside Trail runs along the eastern edge of Piedmont Park, where Music Midtown, Atlanta Pride, the Atlanta Dogwood Festival arts and crafts fair, and finish line of the Peachtree Road Race are celebrated every year along with many other special events.
Neighboring Ansley Park is one of intown Atlanta's toniest and enduring residential addresses. Located in the shadow of the Midtown skyline this neighborhood boasts gracious historic homes, wide winding streets with extensive landscaping, beautiful parks and a golf course which borders the BeltLine's Eastside Trail. Bounded on the East by Atlanta Botanical Gardens and the Piedmont Driving Club and on the West by Atlanta's premier arts center including Woodruff Performing Arts complex and the High Museum, this neighborhood is close to all the amenities of Midtown's commercial and financial district and the practical conveniences of Ansley Mall.